A house is a place where you would like to stay forever in your life. Some have a dream to build their own; others wish to rent and live there for sometimes. However, some have entirely different plans, which come with a great responsibility to build such a mansion that would stun many. What's more is that they want to add quite a few things to it to make it look too massive.
, we have picked the top 10 world's biggest mansions. So, let's look at the top 10 biggest houses around the world. 
Number 10. Far-Field – Sagaponack, New York: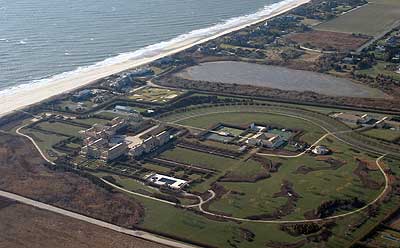 This house is usually termed as the billionaires' house. This house is made on the size of 64.389 square feet with an incredible number of amenities and rooms. The property is spread over 63 acres in size and has an ample amount of facilities you have ever thought of. It is in fact a small town on its own as it has its own theatre with a capacity of 200 seating, Indoor basketball court, squash court, tennis court, two giant bowling alleys, and so on. The amenities also include a giant swimming pool, a Spa, helipad, and grand park. The house had been in news for many matters. The owners were got complained by the neighbors as there is to much noise due to the helipad facilities. They also got complained that the house is not been paid fairly and therefore it has been bought at quite higher prices due to the fake bids. The house still costs across $213 Million marks, but no offer has been reported since 1995.
Number 9. Pensmore – Highlandville, Missouri:
Usually, huge houses are built for aesthetic purposes and beautiful designs. However, this one is all about science. This house has been constructed compactly to survive significant threats such as bomb-blasts, earthquakes, and all other calamities. Steven Huff, the former astrophysicist and CIA officer found it quite intriguing to build a humongous house. This building contains 13 grand bedrooms, 14 bathrooms, a vast swimming pool, huge classical corridors. The luxurious mansion was built to test the idea of a stable house and provide a ground breaking work in this context. Not only this, the idea was to discover how far one can go to make a living highly sustainable. This house has a grand basement, which is a 72,000 square foot bunker. Later on, Huff filed a lawsuit and reconstructed it for designing something else for his family. This huge house has been evaluated at across $100 million; however, the former CIA officer is in no mood of selling it.
Number 8. Taohuayuan – Suzhou, China: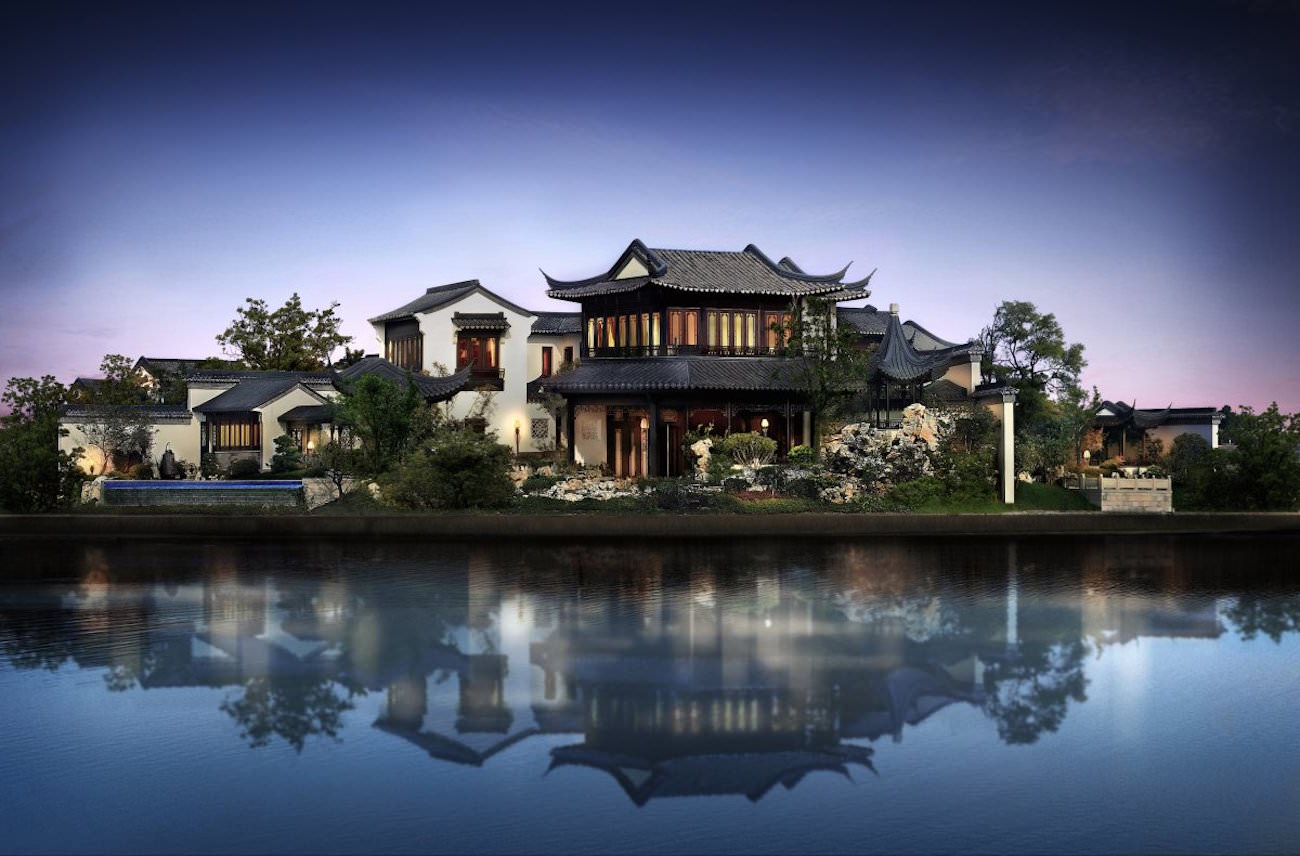 An incredible Chinese style mansion that has stunned many. The house is made at the forefront of a lake whereas it has its own swimming pool and pound. The landscape is more of a classical and ancient design that shares its beauty with the world. The house was designed to model the Garden of Suzhou, a UNESCO World Heritage site. The house is designed at 72,441 square foot size with the grand lake making the all worthy looking house more glorified. The house is built with all the facilities such as 32 bathrooms, 30 bedrooms, a luxurious club, a huge swimming pool, fitness court, and more. The design was more of a classic style; however, there are some signs of modern art in the house. The rooftops are classically curved and designed to give an exciting view of the mansion. This house has a price tag of around $154 Million and has not been owned by anyone other than the first owner. Also, The house is quite a private space; therefore, it is not opened to ordinary people.
7. The one- Bel Air, California.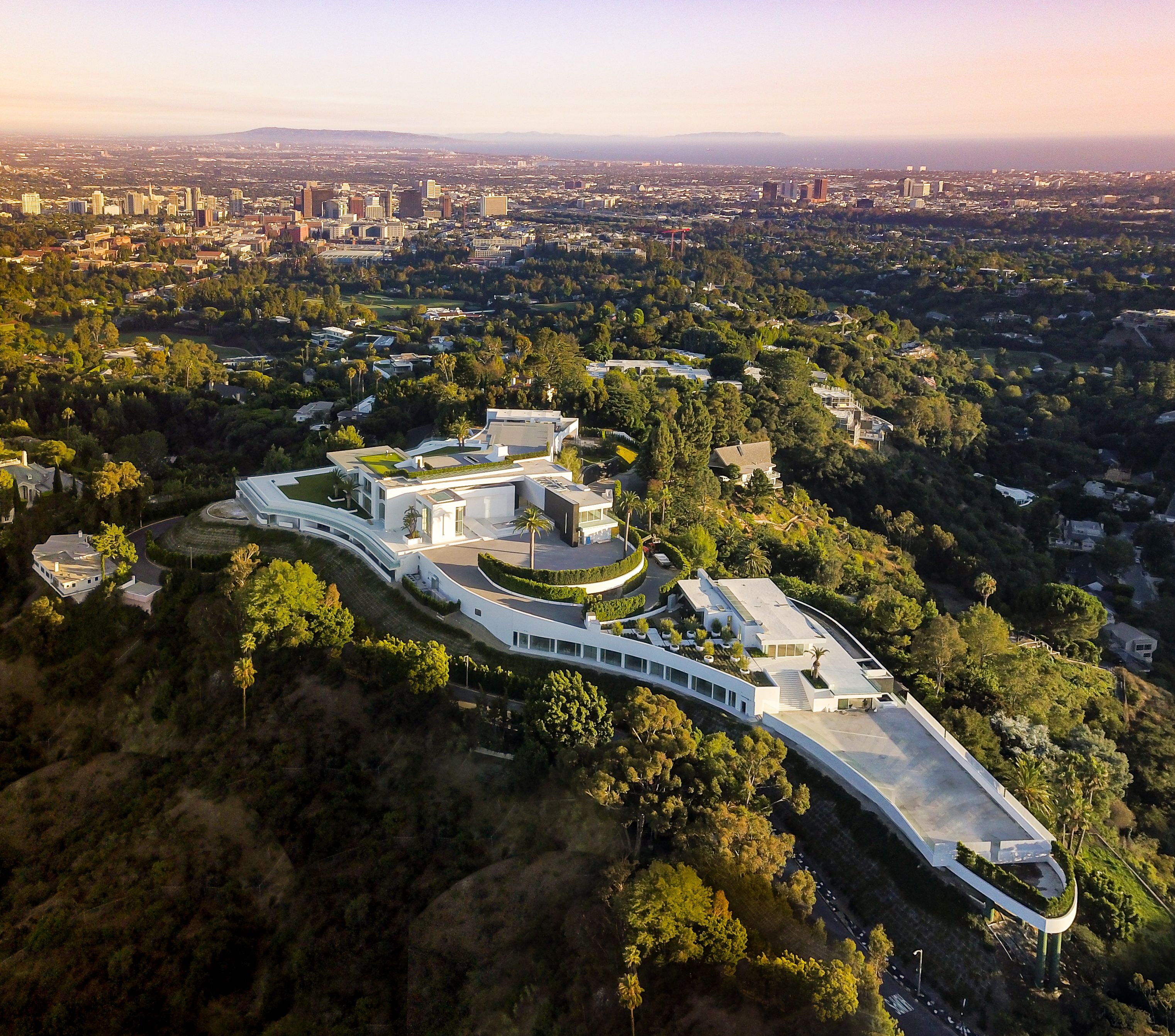 This house is a spectacle to see. A modern 21st-century state-of-the-art designed mansion that has over 100,000 square area covered offers not just a house but a huge package. The house has been designed on 74,000 acres, whereas the other area is covered with the rest of the buildings and facilities. The space is quite loaded with new features that make the 100,000 acres space quite unique. More importantly, the house's design is designed with automatic weather control technology that assesses the heat and makes the room up to a certain temperature. The doors and lights are sensor-based, and you can also add more features if you are willing to. With a huge water pool on front and a grand garden that opens doors for you, this house is an exact place that you have ever dreamt of. This place with a huge facility is also called as the giant party house. With 30 bathrooms and 20 bedrooms, an enormous gym, bowling alley, and several indoor courts, this house is still costing around $500 million.
6. Villa Leopolda- The French Riviera: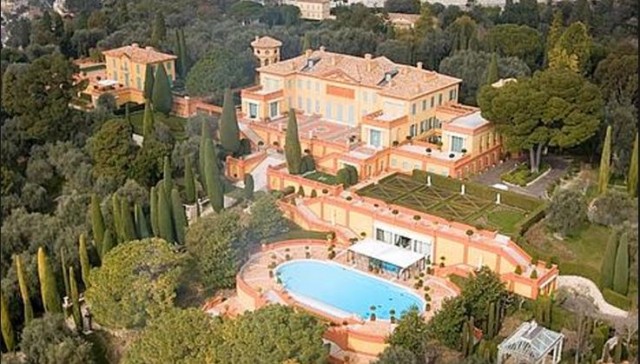 Constructed for over a century ago, this villa has been a special place for visitors. This mention was built by King Leopold II in the 1900s for his own family. The house contains 11 bedrooms, 14 bathrooms, a swimming pool at the front, a weather-protected rooftop, a centrally heated area, basements, a gym, and much more. The property also has a unique commercial greenhouse that defines its importance and uniqueness. The mansion was built before the world war and served as a military hospital for the army and the general public. Hereafter, the house was bought by the king, and he renovated it for the living purpose. With its unique look, the house has attracted many filmmakers, and it has been featured in many films. This house cost is around $130 million, and it has been a great buyer's attraction for many years. The total area of this house is around 70,000 square feet.
5. Versailles – Windermere, Florida:
The house is built on a rocky road; however, it has been a great sight for many who has ever witnessed this beautiful Palace. The incredible construction of over 90,000 square feet has mesmerized many of its buyers. The house has been renovated quite frequently and therefore, you never know what this house might offer you. The home is built on 32 bathrooms, 11 kitchens, 14 bedrooms, an arcade area, a gym, a salon, a movie theatre. There is also a massive space of 30 cars with six huge swimming pools. The house also has an indoor ice-skating area where you can enjoy the thrill. With an additional bowling alley and an incredible mix of classic modern design, this house cost around $150 million. The owner Jacqueline and David Siegel has not decided to sell this mansion ever, and they would like to carry it forward to their next generations to come.
4. Witanhurst London-England: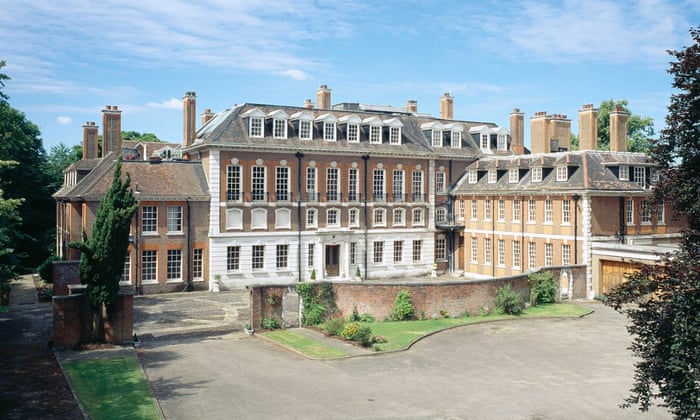 This architecture is the second biggest housing residency reported in the United Kingdom. With the designed architect gorge Hubbard, the mansion has been architected as a Georgian-styled property with a huge park on its front. The house was built from 1913 to 1920 and was owned by the British residents. The house was referred to as the 'present monster' due to its amenities, capacity, and huge architect. This residence is by far the biggest residence of the time, and it has been measured across 90,000 square feet. There is no news about who is its present owner, and the privacy has been quite secured in buying and selling of this particular residency. However, the rumors are that the owner of this house is a Russian billionaire called Andrey Guryev. With the amenities such as the 700 feet swimming pool, huge movie theatre, Sauna, massage parlor, 40 cars parking space, Gym, movie theatre, etc. The house was costed around £50 million and was sold there and then.
Number 3. The Beverly House, California:
It is impossible to complete the list without mentioning this house as a lead house. Beverly hills are quite famous due to their expensive cost of living and areas to be rented. Beverly House is one of its most expensive resident houses and has been recorded with the current cost of $160 million. Not cheap by any means! The house is built on 60,000 square feet of land with different kinds of houses having different shapes. It includes American, Italian, and Spanish styles of houses. The house has been lavishly decorated and taken care of with its maintenance, and repair happens quarterly a year. With the variety of pools and a separate spa area, this great house is not only a costly choice but a worthy option to choose. The central or main house is shaped in an H-shaped architecture. The height of the walls is 50 feet tall, with hand-carved ceilings, an extensive library, swirling balcony, billiard room, family room, and art-deco night club. The house was built in 1949 and the architect was designed by Gordan Kaufmann whereas it was constructed by the banking executive Milton Getz. Since then, this house has been in the spotlight and has been rented for different movies. One amazing fact, are you looking to rent this house? Well, this will cost you around $600,000 a month.
Number 2. Biltmore Estate – Asheville, North Carolina:
If you are familiar with the place called Biltmore estate, then you would have some idea about this worthy mansion. The house was completed in 1895 as the house was designed with the inspiration of the Chateau designs. The estate is built on across 178,926 square foot area, from which only 8,000 is for the winery farms, stables, and gardens. With across 34 bedrooms and 43 bathrooms, the house is designed with all the necessary modern amenities. With 65 fireplaces, a giant swimming pool, central electricity control, self-electricity generation plant. This house was opened for the public in 1930 to see its spectacle. However, the public was just allowed to witness the gardens and farms. This home is tagged around $300 million, and it is considered the largest residence in the United States.
Number 1. Istana Nurul Iman Palace
The biggest house ever recorded in the world is Istana Nurul Iman Palace. This magnificent and enormous Palace is in Brunei. Istana Palace is the residence for the Sultan of Brunei. The enormous Palace is known to be the biggest house in the world ever recorded. Sounds good, right? But it all does not end here. The Palace has 1778 luxurious rooms, 257 bathrooms, and 110 car garages. The Palace was designed in 1984 by Leandro V. Locsin. Furthermore, it has many houses, stables, banquet halls, and swimming pools. And after all, this is also a very costly house which costs a whooping of $1.4 billion.
This sums up our list of the largest houses, please tell us in the comments as which one inspired you most? Please subscribe to our channel and share our videos with your friends and family. See you in the next video.